Gadjo

Gadjo is the creation of acoustic string players that love playing hard driving acoustic music. Their style of music has its roots in what was formerly called "Hot Jazz." In the 30's, Django Reinhardt and Stephan Grapelli introduced this type of music to France and other parts of Europe. The roots of Django's music actually came from the America, where jazz was developing and getting a growing audience. The songs and influences of Duke Ellington and other jazz giants are heard in felt in the music. Django and Stephane achieved international acclaim and recorded many original and American jazz classics, including American pop and jazz standards "Dinah," "Tiger Rag," "Lady Be Good," "Stardust" and "St. Louis Blues." Reinhardt and Grappelli collaborated and wrote "Djangology," "Minor Swing," "Bricktop," "Swing 39" and the international hit, "Nuages."
Today, we have everyone from Mark O'Conner, Vasser Clements, Jethro Burns and other great musicians carrying on the music and adding their influences to acoustic jazz..

Members of Gadjo have broad backgrounds in music, including bluegrass, folk and acoustic, country and ethnic music. After years of playing various forms of music, we have "banded" together to play the music that gets to the heart of it - the music of Gadjo!
It don't mean a thing, if it ain't got that swing.

Member Roster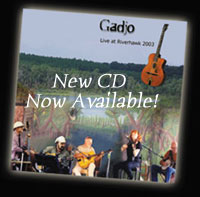 Harry Coleman
Harry has played everything from Rock, Jazz, Bluegrass and Big Band. He has played with Buddy spicher, Vasser Claments, Buck White and Jethro Burns. He tries to attend the the National Flat Picking Contest annually, held in Winfiled, Kansas.
Harry has built guitars for over 10 years and performed certified Martin Guitar luthier repair.


---

Suzanne Lansford - "Mom and Dad taught us girls about music before we could even walk. Beginning with classical lessons, and quitting them in high school to play jazz in a night club, (shhh - don't tell Mom!) I've had more fun with my violin than is legal in most states (I just don't go to those states). In Chicago, I was a member of Chicago's very fun classical / jazz / latin group, The 3rd Coast String Quartet."

Suzanne won the 2003 YeeHaw Junction Bluegrass Fiddle championship. Her husband, Frank Cunningham, lets her play in his bluegrass band called the "Cunning-Hams" (get it?). But gypsy-style Gadjo music is her most-favorite-est, because all those styles - jazz, classical, Latin, even Greek and Bluegrass - they each get a cameo in Gadjo gypsy jazz.

---

Harry Trott
Born in Baltimore, Maryland, moved to Florida at age 5. Began banjo at age 18, after hearing Flatt and Scruggs. First band: Roscoe and the Poor Boys. Began jazz interest in 2000. Harry Lives in Citrus County, Florida and plays for banjo for the pleasure of it. Harry's unique melodic and jazz banjo style makes for a fine blend of acoustic jazz.

---

Dennis Devine
Dennis plays rhythm guitar with Gadjo. Dennis has performed and recorded with many groups in Florida, performing music from Civil War Era, Old Time Music, Folk, Bluegrass, Irish and ethnic music. He has performed at many major Florida festivals with Don Grooms, Will McLean, The New Sand Mountain Wildcats, Southwind, DiNella and Devine, and the 97th Regimental String Band, and Devine and LaRoche.

---

Robbie Beaumont
Robbie Beaumont, acoustic bass, plays many instruments and has performed in groups and as a solo act throughout Florida. Robbie currently plays as an acoustic act, playing bass pedals while playing guitar. Robbie is one lean and mean bass driving machine.


---